Lodge History
P.H.A. OF FLORIDA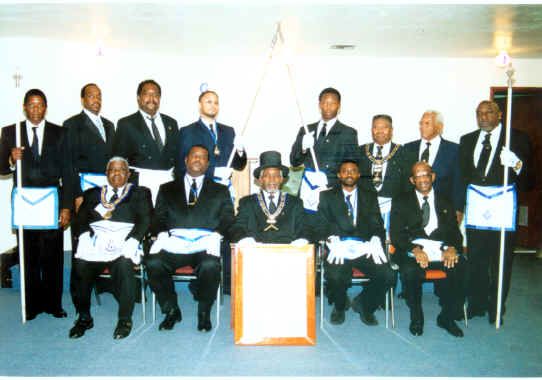 Back Row L to R: Bro. Larry Davis (Marshall) Bro. Tommy Williams, Bro. R. C. Freeman (Trustee) Bro. Timothy Edwards (SD) Bro. Andrew Smith (JD) Bro. Husen King (Tyler) Bro. Robert Gabriel, Bro. Ronald Murray
Front Row L to R: PM Arthur L. Cole (Treas) Bro. Theodore Hammonds Jr. (SW) Bro. Anthony Smith (WM) Bro. Tillman Richardson III (J W) PM Glenn H. Foster (Webmaster)
THE PRIDE OF MIAMI LODGE #753
We reorganized in July 1994 under the outstanding leadership of Bro. Arthur Cole Worshipful Master, who served from July 1994 until December 1997. Our chartered members are as follows:
Bro. George Stubbs: Senior Warden

Bro. Glenn H. Foster: Junior Warden

Bro. Eddie Campbell: Treasurer

Bro. Valentino King: Secretary

James Stubbs: Junior Deacon

Bro. Anthony Smith: Senior Deacon

Bro. Husen King: Tyler

Bro. Maceo Brown: Junior Steward

Bro. Maxwell Walkes: Senior Steward

Bro. Henry Fayson: Chaplin

Bro. Nokia Hollinger: Marshall

Bro. Alexander Hunt

Bro. Martin McKenzie

Bro. John Williams

Bro. Lloyd Levy

Bro. Warren Street

Bro. Glenn H. Foster was elected Worshipful Master in December 1997 until December 2000. Bro. Anthony Smith was elected for the year of 2001-2. We are small in numbers but each of us carry the heart and soul of a true upright Man and Mason.

Click here for the Grand Lodge

LODGE HISTORY BRIEFS
A Masonic Creed
An expression of the simplest form of faith of Masonry, not exhaustive, but incontrovertible and suggestive, the following is:
The Masonic Belief
There is one God, the Father of all men. The Holy Bible is the great light in Masonry, and the rule and guide for our faith and practice. Man is immortal. Character determines destiny. Love of Man is next to love of God, man's first duty. Prayer, communion of man with God is helpful. Recognizing the impossibility of confining the Masonry to any fixed forms of expression, yet acknowledging the value of authoritative statements of fundamental principles, the following is proclaimed as:
The Masonic Teaching
Masonry teaches man to practice charity and benevolence, to protect chastity, to respect the ties of blood and friendship, to adopt the principles and revere the ordinances of religion, to assist the feeble, guide the blind, raise up the downtrodden, shelter the orphan, guard the alter, support the government, inculcate morality, promote learning, love man fear God, implore his mercy and hope for happiness.

Community Services and Activities
We give Easter Baskets to the local Women and Children Rescue Mission.
We assist the Elderly in any way we can.
We give toys to the under privileged during Christmas time.
We give Thanksgiving Baskets to the needy.

"Behold, how good and how pleasant it is for brothers and sisters to dwell together in unity! It is like the precious ointment upon the head, that ran down upon the beard, even Aaron's beard; that went down to the skirts of his garments; as the dew of Hermon, and as the dew that descended upon the mountains of Zion; for there the Lord commanded the blessing, even life forever more". Amen! So mote it be".
(Psalms: 133)

"Thus he showed me; and behold, the Lord stood upon a wall made by a plumb-line, with a plum-line in his hand. And the Lord said unto me, Amos, what seest thou? And I said, A plumb-line. Then said the Lord, Behold, I will set a plumb-line in the midst of my people Israel; I will not again pass by them anymore. "Amos 7: 7,8)

Remember now thy Creator in the days of thy youth, while the evil days come not, nor the years draw nigh when thou shalt say,
I have no pleasure in them; while the sun, or the moon, or the stars be not darkened, nor the clouds return after the rain; in the day when the keepers of the house shall tremble, and the strong men shall bow themselves, and grinders cease, because they are few; and those that look out of the windows be darkened, (Ecclesiastes 12: 1,3)